A LITTLE DINNER
Five days after my throat operation went out for a little meal and my first solids while the lovely wife enjoyed a Margaritta.
It was to soon and left my throat pretty soar when done.
The food was really good and I really wanted some solids but it needs to be at least another week before I try this again.
STILL RECOVERING
Just like most of my week after a recovery from my surgery just having a lazy Sunday at home.
ONE OF THOSE DAYS
Today was supposed to be my last day at home for recovery and I finally get back to work before I go nuts sitting around. Until I get a call my mom sliced her hand open and hurt her shoulder slipping and and breaking some glass. She was refusing to go to the doctor and it had been 12 hours ago since this happened. So my mother really doesnt listen to ANYONE except me really. Get in the car do 60 mile drive get her in the car and head over to the emergency room.




After a 4 hour wait in the emergency room and a guy dragging in after being shot in the leg with police soon after rushing in it was a long boring wait.



Now because she waited so long the doctor said the hand couldnt be stitched and needed staples. My mother at times can be tougher then a Navy Seal and when the doctor said I need to give you a local before putting in the 4 staples she says no!! Im trying to convince her this is a bad idea and should take the shot. She wouldnt have any of it and handled the pain far better then I think I would have but then again I would have insisted on the shot and maybe a second one!

So ge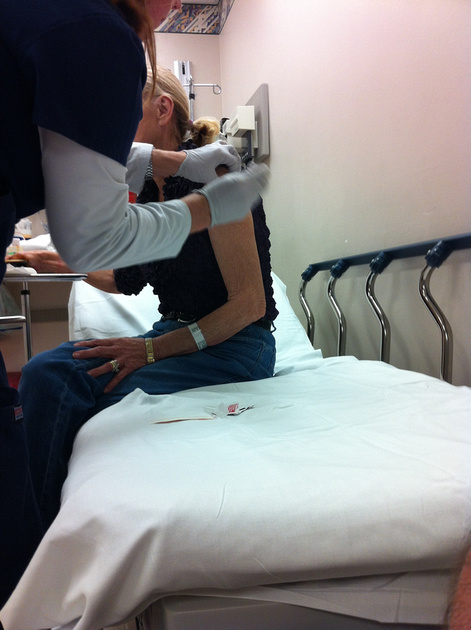 t her out of the hospital some dinner, pick up the medicine and begin my 60 mile trip back home. Anyone else have stubborn mothers!
RANDOM PHOTOS FROM THE WEEK