Thats right the delivery person has brought a new package for me to open. And its been a while since I have been this excited about a watch!
Almost there for the big moment.
And here we are. A new watch from REACTOR.
Now when I ordered this special edition I was not sure if I was going to like it or not. Could not find a picture that really gave me a true feeling about the watch. But when I opened it that ever so important first impression was WOW! It looked like quality and feels like quality.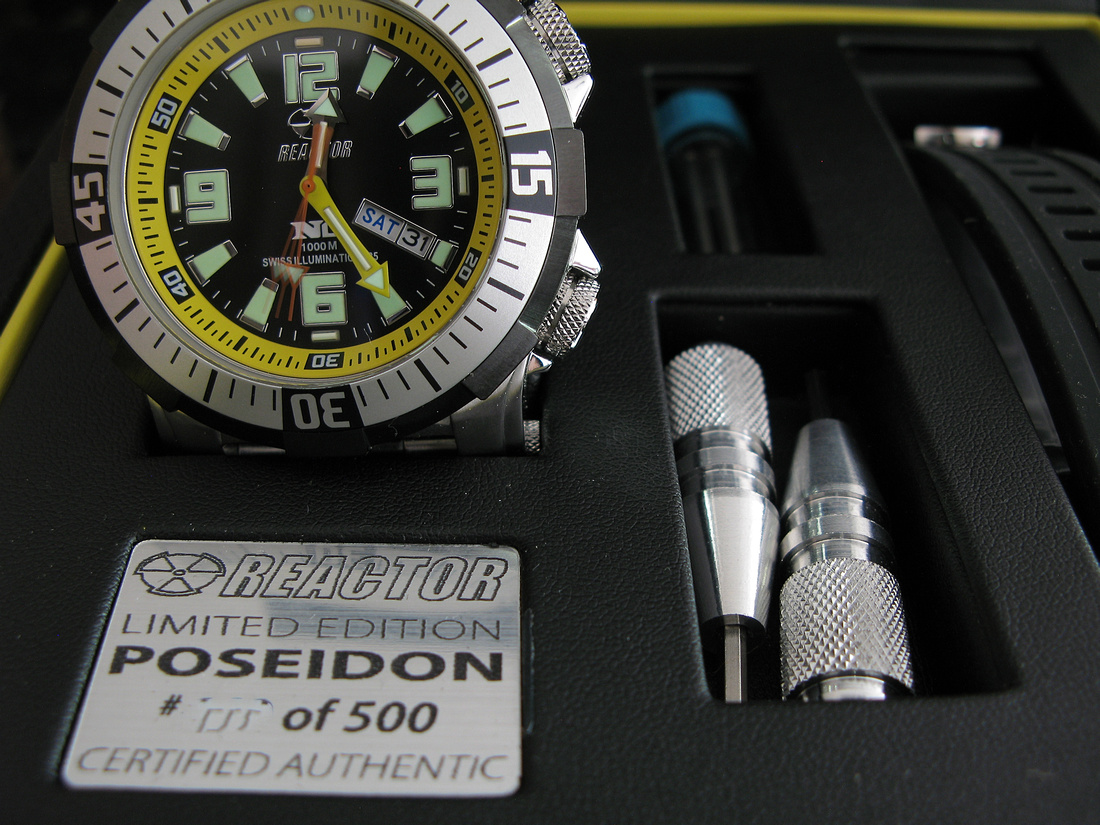 I realized it has everything im looking for in a dive watch that works for me. It may not be in all the watches I own and love but it does in this one. First markers all around the watch. Lume that glows clearly all through the night until I wake up in the morning.
A smooth very tight bezel with no play at all. I dont use anything but medal bracelets almost always. And this one is solid. Probably could hold my 220 pound frame. Push button clasp is very important. Just dont understand why my $3000 plus dollar Breitling or all Swiss watches for that matter dont have one. I dont dive but dammit I want a dive suit extender if im going to buy a dive watch.
And finely I have always been a automatic guy. But having my Seiko Kinetic now for 7 years I do enjoy having the rotor feel of a auto with the accuracy of a quartz. The Seiko kinetic has been my work watch for a long time and its nice when Monday rolls around to just slip it on. And the POSEIDON uses the Seiko kinetic also. Just a perfect combo for my taste and with this manly watch. I mean its been pouring testosterone so much I have to wipe it off the watch constantly.
Here is a shot of the straps. Darn fine quality probably wont use them much.
The tools it comes with if you want to remove the bracelet and put on the straps.
The extra bars for the bracelet and straps in case you loose them I suppose because I dont see them breaking anytime soon as tough as they look. So more for the just in case I loose one.
Extra links for the bracelet. I have a 8 inch wrist and just had to move it in one notch for micro adjustment and it was perfect fit. The bracelet uses the same pin system as the 300m MARINE MASTER. Which me personally I prefer over screws. Screws come loose and strip this pin style that Seiko uses has never failed me nor have I heard a case of it happening. Just a personal preference. Simple instructions the watch comes with.
Never been one for numbers on a dial its one of the main reasons I picked my Breitling over a Omega. Cant tell you why but like it on this one from the moment I saw a picture.
A side view of the watch and bracelet. In my opinion REACTOR took a lot of SEIKO ideas and incorporated into this watch. Its almost like a SEIKO executive lost all inhibition and just went nuts.
Smooth, smooth, smooth crowns for opening and closing. Enough said.
Some like see through case backs. Some dont like them one bit. I dont mind either way and will catch myself looking at them with my other watches from time to time.
As I said before I like push button clasps. Never had the tension style ones fail but just dont like them anywhere near as much as this kind.
The dive clasp extender.
Fantastic loom! I took it upstairs with no extra light put on it closed the door turned off the lights and took this shot.
Few more close up shots. You will notice I blanked out the numbering on it. It is not a flaw from the company!
As of right now it a big time keeper. My plan was if I didnt like it to send it back and get the top grade Orient diver. But I am keeping this one.